(EDITOR'S NOTE, 8/24/18, 10:28 PM ET: The day after both local media outlets in Michigan like WWMT-TV and national outlets like KTLA and The Root reported on the allegations against David Allen Dean, local police are now saying the accusations were fabricated by the children.
Fox 17 West Michigan reported that after the Children's Advocacy Center interviewed the children involved in the incident, it's suspected one of the children urinated on the girl in question, and blamed a local sex offender to cover for what they did. The Grand Rapids chapter of the NAACP said that David Allen Dean should be afforded his due process rights, but that they'll be waiting on the results of DNA tests to determine whether or not the urine on the young girl belonged to Dean.)
A Michigan man was arrested Wednesday after allegedly urinating on a five-year-old black girl who he called a racial slur.
While kids played hide-and-seek in a Grand Rapids, Michigan alley, 60-year-old sex offender David Allen Dean allegedly urinated on one of the children and called her the N-word.
According to records obtained by The Root, Dean has a history of criminal sexual conduct related to persons under the age of thirteen.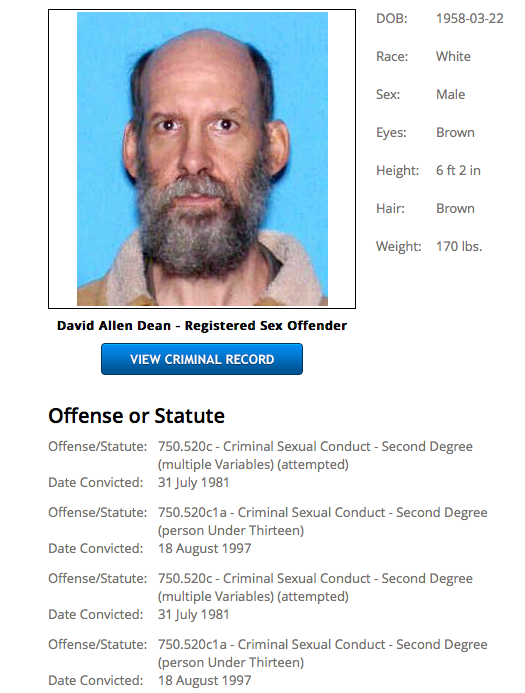 "She came in the house and she was wet, like soaking wet, and I'm asking her what happened but she was afraid to tell me because she thought she was going to get in trouble," said the mother of two witnesses, Katrena Rapier. "And then I called my boys because I knew they'd tell me and then they said the guy said 'stupid n-word' and started peeing on her."
Rapier's two sons were playing with the victim and her brother. After the incident, the children went to her home.
"Her hair smelled like nothing but urine and it was like soaked, her whole shirt front to back was soaked," said Rapier. "Her eyes were really big, like she was about to cry."
Grand Rapids police will be providing counseling to all children involved. Dean has been charged with a criminal sex offense.
According to reports, Rapier, who lived on the same street as Dean, was unaware of his status as a sex offender.
"I never knew that he was capable of doing all that to a 5-year-old child," she said. She added that the victim is afraid Dean will find her again.
Grit Post's calls to the Grand Rapids Police Department have not been returned as of this writing, but Dean is expected to be arraigned on Thursday.
"That's like the worst, lowest thing you can do," Rapier said. "She's a 5-year-old, just a child period, it just makes me angry."
Katelyn Kivel is a contributing editor for Grit Post in Kalamazoo, Michigan. Follow her on Twitter @KatelynKivel.